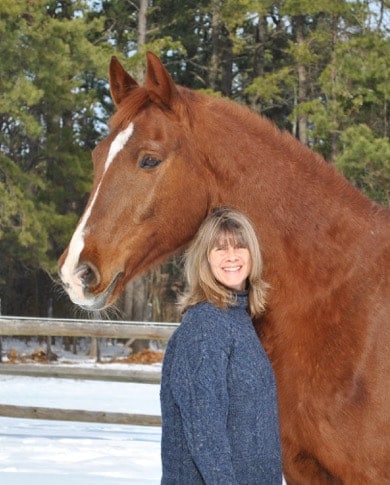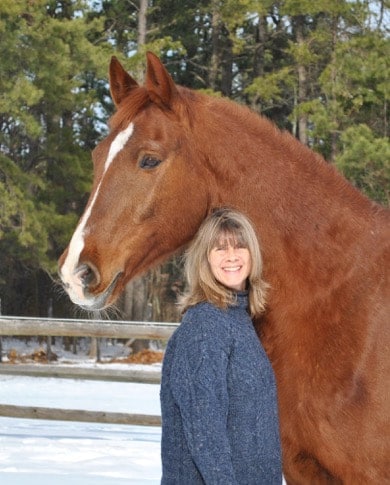 Ginger & Herz 2011
The staff and owners of Horsemen's Laboratory are like all other businesses we love our loyal clients.  This is a short story about just one of our many loyal clients and her horse Herz.  Ginger Krantz sent Horsemen's Laboratory Herz's first fecal sample on May 5, 1993 for a fecal egg count.  Horsemen's Laboratory received Herz's latest sample on May 19, 2017.  Herz was 7 years old when we received his first sample and now 24 years later he is 32 years old.  Over the 24 years Horsemen's Laboratory received 63 samples for evaluation and only 9 of those samples were positive and then for only 50 strongyle eggs/gm the lowest number we record.  No other worm eggs were found.  When I asked Ginger how many times she dewormed Herz over the 24 years she immediately replied 9 times after each positive test.  Ginger moved Herz to several different stables situations over the 24 years and yet he never had an egg count over 50 strongyle eggs/gm.  His last positive test was 50 strongyle eggs/gm on November 9, 2012 almost 5 years ago.
Horsemen's Laboratory wants to thank Ginger for her loyalty and reward her for her diligence in protecting her horse Herz from worms by having his stool checked so often.  Therefore, John W. Byrd, DVM owner of Horsemen's Laboratory said we would check him for worm eggs for free for the rest of his life.
Horsemen's Laboratory has several other clients that have their horses worm control programs evaluated by us, but none of them have one horse that we have been evaluating over as long a period of years as Herz or as many times.
If you are a client of Horsemen's Laboratory and feel you have a special story you would like to have told concerning your horse and how Horsemen's Laboratory has helped you evaluate your horses' worm control program please contact us and let us share it with our other clients.
Here's Ginger & Herz's story …
Dr. Byrd and Horsemen's Laboratory have made a significant, positive difference in the life of my German Warmblood gelding, Herz.  When I purchased him, in 1989, he was 4 years old.  I'd recently enrolled in a four-year training program in Brennan Healing Science®.  With health being a primary value, I sought to make educated decisions about his management.  Soon I began to question some conventional methods of horse care, and sought to reduce his intake of toxins.  Working with my veterinarian, I minimized his vaccinations.  I made dietary and supplement changes.  When I learned about Horsemen's Laboratory, in 1993, I shifted from the accepted norm of routine paste worming every six weeks; to testing for egg counts quarterly, and worming as needed.
In our 28 years together, Herz has lived at four different farms, in two states.  Any time, I've had a concern or question about worms, or my horse's fecal results; Dr. Byrd has been available for consultation.  He's informed me with his data, and facts from the latest research; enabling me to make the best, educated choices for my horse.  As a result, in the past 24 years, Herz has had positive stool sample only nine times, and his egg count has never been above 50.  Tracking his fecal counts, has allowed me to minimize his intake of chemical wormers, toxins and stress on his digestive system.  The fecal reports have also made it possible for me to surmise why he obtained worms, in each case.
From my personal healing journey, and passion to help horses and their owners, I've created Earth Horse Healing, a holistic healing practice that specializes in horses.  Over the years, I've clearly seen the positive difference minimizing toxic load and stress has on horses.  I'm grateful to Dr. Byrd, for having the foresight and dedication to create Horsemen's Laboratory.  He's given me, and the many people I've referred his service to, the opportunity to take their horses' worming programs into their own hands.  Thanks to Dr. Byrd, my horse has been spared countless doses of paste and daily wormers.  Horsemen's Laboratory has contributed to Herz, at 32 yrs, still being with me, today.
Ginger Krantz
Earth Horse Healing:  http://earthhorsehealing.com
Earth Horse Healing Facebook:  https://www.facebook.com/EarthHorseHealing/